SEO – The Most Important Elements, Points and Factors for Google
Here is a list of the most important things to consider when it comes to search engine optimization for a new website:
Enough high-quality articles, of which there are many on the site
Choosing the right keywords
Using keywords in important places on the site
Using the best SEO plugin in WordPress
Determining how to compete in Google for a particular keyword
Using a search engine friendly publishing system, such as WordPress
Using a search engine mobile-friendly theme in WordPress, such as Schema
High quality content
If you want your website's pages to stay high in Google's (and in other search engine's) search results, your website articles need to be of high enough quality and contain the kind of content that people are looking for through a Google search.
For example, it may take several months to get visitors to a new site, but once Google notices that people are coming to the site through search and staying on the site long enough, Google will rank the pages of such a site higher in its search results. Once this has happened and the site has gained Google's "trust", new articles published on the site tend to rank high in Google's search results quickly after publication. It should be remembered, however, that if a site is not updated for a long period of time, i.e. new material is not published, the site's pages are likely to drop in Google search results.
A high quality site will also often gain a lot of natural backlinks over time, which means that people will link to articles on such a site from their own website, for example. This also raises the site's standing in Google's eyes and the site's pages will rise to higher positions in search results.
Choosing the right keywords
Getting the keywords at least roughly right is important for a page to rank well in search engine results. You should aim to find keywords that are used enough, but without too much competition.
It's also worth remembering that nearly 400 million people speak English as their first language, while only 5-6 million people speak Finnish as their first language, for example. In other words, a given Finnish-language keyword will easily get you to the first page of Google search results, while an English-language keyword will get you to number 1000. No one will ever find such a page through search engines. But of course it is clear that there are perhaps 100 times more searches in English than in Finnish for a given keyword.
How to find and choose good keywords?
Personally, I use a program called Keyworld Atlas (45% off discount) to search for keywords. This excellent software costs only $37 (a one time fee). Without a good keyword research program, finding the right keywords can be very difficult.
I almost always use the "Suggest Keywords" function in Keyworld Atlas, which allows me to find the keywords that are used by search engines to match the keyword. There are usually several hundred of these. I then copy all the search terms and paste them into Google's Keyword Planner.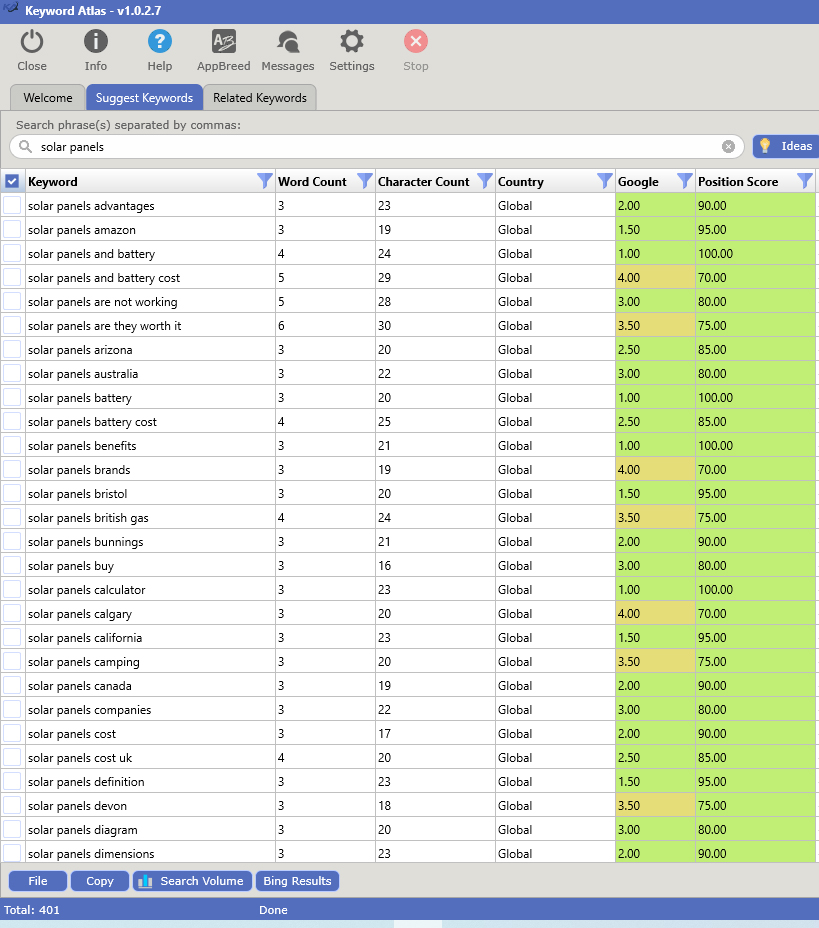 Using free Google Keyword Planner, I can find out how many times a particular keyword is used in Google's search engine each month. You can limit the search by language or country if you wish.
Selecting approximately the right keywords
In general, it is not worth focusing on keywords and key terms that are searched for only a few times, for example less than 100 times a month. You should choose keywords that are searched for at least 100 times a month, preferably more than 1000 times a month.
You can and should also combine these search terms found. If you look at the title of this page, it's "SEO – the most important elements, points and factors for Google", so here you have a combination of many different searched keywords. One search term is "SEO important points". Alternatively, you could write a separate page for each keyword if you wish.
Using keywords in important places on the site
Once a suitable key term with not too much competition but enough demand has been found, it needs to be placed in the right places on the page. Since I strongly recommend WordPress as a publishing platform, the most important keyword is inserted in the title of the article, so it automatically becomes the title tag of the page. This is actually probably the most important thing in search engine optimization: the title tag. Another important place is the site's meta description tag. This is where you should put the keyword of the page and also general information about the site. More on this in the next section.
In your article, you should use subject-related subheadings in the headlines, of size h2 or h3, and you should also include at least one image or video in the article. You find free images from Pixabay and Unsplash.
Using the best SEO plugin for WordPress – Yoast SEO
Yoast SEO is one of the best plugins for WordPress. I personally use the free version of it, and I don't quite know all its features, but I have had good results with it.
The Yoast SEO preconfigured settings are worth changing at these points:
Once Yoast SEO is installed on WordPress, log into the WordPress control panel. Click
Yoast SEO -> Search Appearance -> Content Types.
I have only changed these settings: SEO title and meta description.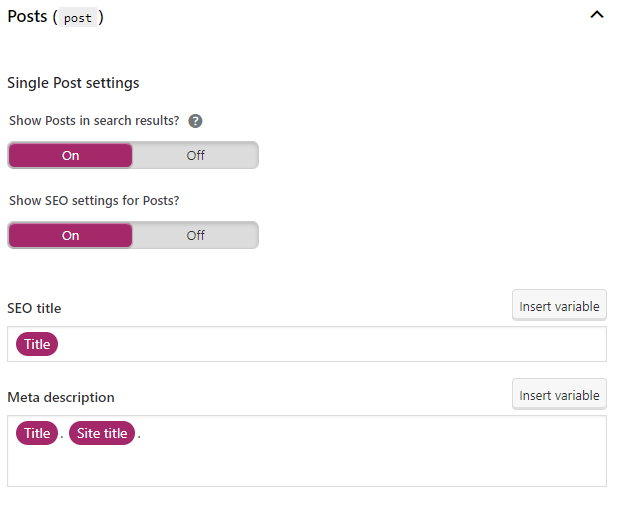 Whereby the page source code for title and meta description looks like this:

When adding an article to your WordPress site you should definitely add in the Focus keyphrase (below the article text) the site title. You need to remove commas from the text you paste to the Focus keyphrase field.
You can download free Yoast SEO plugin for WordPress here.
Examine a competition in Google for a specific keyword
Once you have found keywords that are searched for more than 1000 times a month on Google, for example, it is worth looking at the competition for these keywords. This can be done by using different commands in Google search, such as intitle, allintitle or by enclosing the search term in brackets.
In my opinion, the best way to determine competition is to use the allintitle command. With this command, Google searches for all pages that contain all the words that appear in the title tag of the page. Since the title tag is an important element that determines the ranking of a page in a Google search, this is a good command to define the competition.
If you make an article with the title of, say, SEO guide, you will probably never get visitors to the page, because there are about 63,000 pages with SEO guide in the title tag. If you write an article with the title Mallorca golf courses (average monthly searches: 1K – 10K), for example, you will probably get visitors to the page, because the Google command: allintitle:Mallorca golf courses will only return 352 pages.
You probably get the idea. Of course, you should not leave the title tag (page title) so short, but add appropriate keywords up to the 65-70 characters recommended by Google.
WordPress – the best publishing platform
WordPress is a free and easy-to-use publishing system. Built in PHP, it is under constant development and there are countless plugins and themes.
Plugins do specific things in WordPress. For example, an add-on can filter spam from comments, replace words or phrases with another, automatically add certain content to each page at a certain point (e.g. an ad), quickly index new articles in Google's index, and so on.
Listed below are some good plugins for WordPress:
Yoast SEO
Insert Post Ads
Instant Indexing
Better Search Replace
Head, Footer and Post Injections
Akismet Anti-Spam (this comes with the WordPress) installation
Search engine friendly theme for WordPress
Although there are probably thousands of different themes for WordPress and there are also many good, fast loading and lightweight search engine friendly themes, I recommend Schema Lite, the theme I use. It's free and works great on desktops, tablets and mobile devices.
You can download Schema Lite here. There is also a paid version of the theme.
Google Search Console
Once your site is up and running and has at least a few articles, you should add it to Google's search console. For example, you can use it to add a sitemap to your site, which will probably get your site's pages indexed quickly in Google's index.
If you are using the Yoast SEO plugin recommended above, the sitemap can be found at: sitename/sitemap_index.xml like https://www.ztips.org/sitemap_index.xml

Some good articles about affiliate marketing:
The ultimate guide to affiliate marketing
Affiliate marketing - free guide for beginners
Some good articles about article/content and text spinning (rewriting):
Article spinning - Wikipedia
What is article spinning? Is it bad for SEO?
Some good articles about keyword research:
How to do keyword research for SEO
Keyword research
Some good articles about search engine optimization (SEO):
Search engine optimization - Wikipedia
Search engine optimization (SEO) Starter Guide